Jax Wild Rift Build & Guide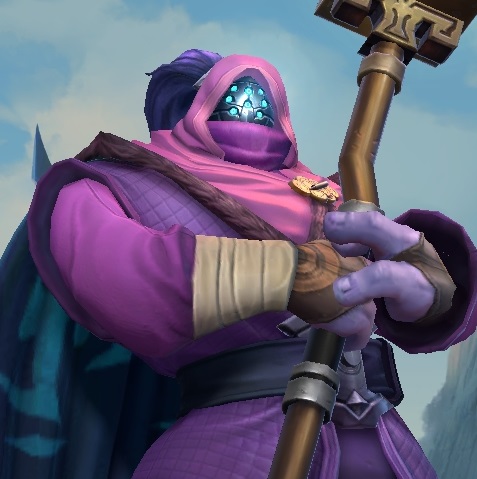 Class: Fighter
Recommended Lane:
Baron
Best Jax Wild Rift build guide for Season 10 Patch 4.3 of WR. With our Jax guide you will learn which items to build, runes to select, skill order, who counters Jax, and how to use abilities properly.
Recommended Builds
Jax is the last known weapons master of Icathia who is unmatched in both his skill with unique armaments and his biting sarcasm. Jax is a scaling bruiser and duelist who excels in split pushing, winning late game 1v1s, and peeling for his team.
Jax Wild Rift Build Recommendation
Here are Item Build Recommendations that works on this champion and which are the best build for Jax Wild Rift in this patch.
The Grandmaster
This is the standard Jax Wild Rift build which grants him carry potential and at the same time provides enough survivability to peel and create space for his team.
The Grand Pusher
This Jax Wild Rift build is better for pushing and duels but it is less effective on team fights because of the lack of defensive items. This build is viable when you are fed in the early game or if you have a good team fight composition with a tank jungle or support.
Runes for Jax in Wild Rift
Conqueror – Jax's passive encourages drawn-out fights and this Keystone Rune shines on exactly the same thing because it grants increasing damage bonus as the more instances of damage you can inflict which comes quickly because of Jax's fast attack speed.
Gathering Storm – Jax is intended as a strong mid game to late game champion and this rune works exactly for that purpose, to aid the scaling of late game champions with its bonus damage over time.
Hunter – Titan – Works extremely well with Mercury's Treads to grant Jax large amounts of crowd control resistance which makes him effective against crowd controls.
Mastermind – Allows Jax to take down turrets extremely quickly with the bonus damage to turrets. Taking down turrets and epic monsters will also grant bonus gold.
Spells
These two are the best spells you can equip for Jax Wild Rift.

Ghost helps Jax weave in and out the battle and avoid being kited. It also increases his kill pressure later in the game.

Flash is just common sense for almost all champions. It has too many offensive and defensive utility and outplay potential to pass up.
Skill Order




3rd, Counter Strike, gets the first point at level one because it can be used for a cheese play by hiding in a bush and surprising the enemy for an early advantage but it is maxed last because it provides enough utility at level 1. 2nd, Empower, is maxed first because it is your main source of damage then 1st, Leap Strike, is maxed second because it adds damage and mobility to your kit. As per usual, get a point in your ultimate, Grandmaster's Might, whenever possible.
Abilities

Attacks grant 5-19% Attack Speed for 3 seconds. (Stacks up to 5 times.)

Leaps to target unit, dealing 70/125/180/235 physical damage (55 + 100% bonus AD + 60% AP) if it is an enemy.

Empowers the next attack or Leap Strike to deal an additional 55/100/145/190 magic damage (45 + 60% AP).

Enters a defensive stance, dodging all incoming attacks for 2 seconds. After this duration, nearby enemies are stunned for 1 second and take 55 physical damage (55 + 50% bonus AD). Each attack dodged increases this damage by 20% (up to 100%).
Re-cast: Ends the defensive stance early to damage and stun nearby enemies immediately.

Passive: Every third consecutive attack deals an additional 100 magic damage (100 + 70% AP).
Active: Jax stops holding back, gaining 30 Armor (30 + 50% bonus AD) and 30 Magic Resist (30 + 20% AP) for 8 seconds.
Abilities Analysis
Innate: Relentless Assault
Jax passive grants him a stacking attack speed bonus which means his damage per second increases the longer he is in a fight.
In the early game, shoving the lane is not really recommended because you will be vulnerable to ganks so it is not recommended utilizing his passive yet.
But as the game goes on, especially if you win your lane, Jax is a scary monster especially when he has stacked up his passive. So, if you are shoving the lane to split push and somebody comes and you know you have a good stack going, you can jump to the defending opponent. But, be mindful of the minimap before doing so because you might not win if you are against 2 or 3 champions unless you are fed.
Jax can reach the maximum attack speed when he manages to get the maximum stack of Relentless Assault in the late game.
Q| 1st: Leap Strike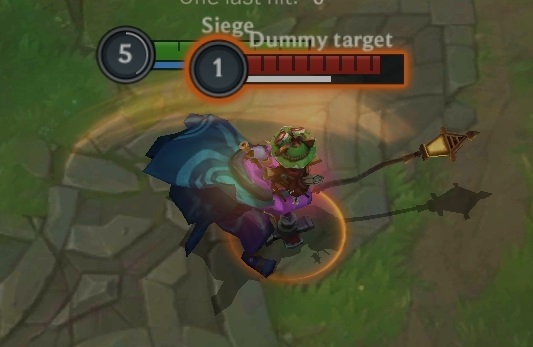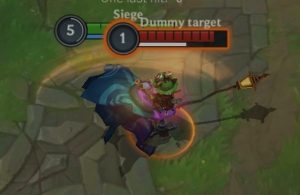 Leap Strike makes Jax jumps to his target and damages the target if it is an enemy. This is Jax's main mobility and engage tool. He can only use this as a disengage and escape tool by targeting allies or jungle monsters. Jax immediately attacks after leaping unless you are in the middle of 3rd, Counter Strike but you can still auto attack by manually pressing the attack button.
Unfortunately, unlike in his PC counterpart, Jax cannot jump to a ward.
If your target has a mobility ability like Ezreal, walk towards the enemy first then use Leap Strike after your target has used their mobility ability.
Leap Strike can be used in combination with Jax's other abilities.
Use Leap Strike with 2nd, Empower, to deal burst damage. Time with your third strike to easily activate your ultimate's passive as well.
Although in most cases, doing the combo 1st + AA + 2nd + AA is a better option as it deals more damage.
Use Leap Strike in combination with your 3rd, Counter Strike, to stun a target you think you won't be able to reach on time. Alternatively, you can also jump into multiple enemies to stun all of them at the same time.
You can jump to jungle monsters over walls by placing a ward where you want to go and casting your Leap Strike on the monster, kind of like a pseudo ward hop.
W | 2nd: Empower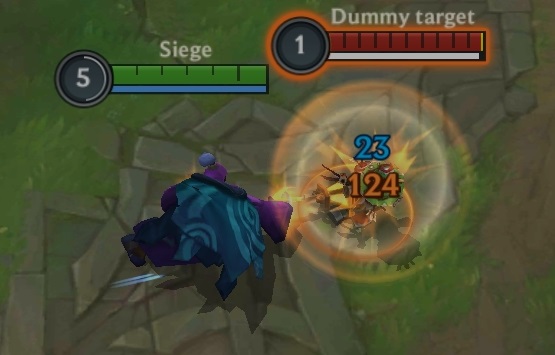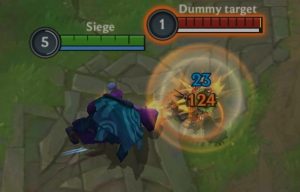 Empower is an auto-attack reset that grants bonus magic damage to your next attack. It can also be used to increase the damage of your 1st, Leap Strike, but without the benefits of the auto-attack reset.
Use Empower to secure last hits in the early game.
The auto-attack reset should always be used to optimize and maximize your damage output. "Auto attack reset" means that the next attack is immediately available after casting the ability which means you can do two attacks in quick succession.
Empower works on towers.
E | 3rd: Counter Strike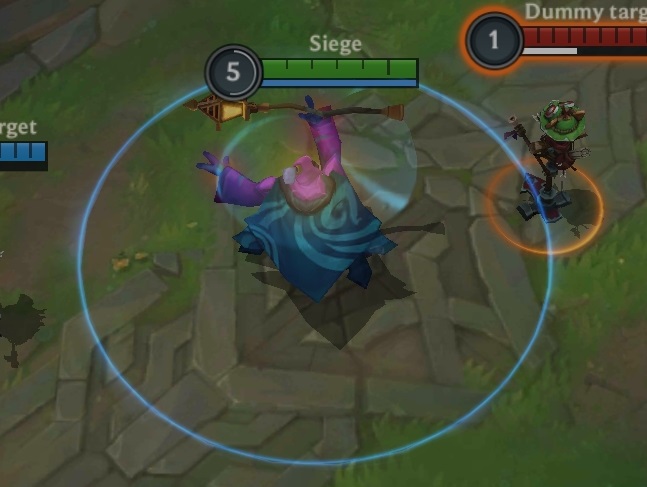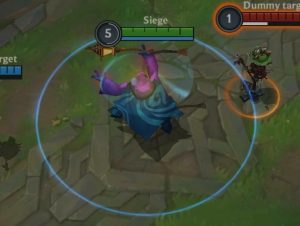 Jax assumes a defensive stance upon activating this ability which allows him to dodge all auto attacks coming from champions, minions, and monsters. However, Jax cannot evade the attacks of Drakes, Baron Nashor, and turrets.
The effect of Counter Strike in PC LoL that reduces AoE damage is omitted in Wild Rift as well.
Counter Strike works best to counter empowered attacks like Garen's 1st, Decisive Strike, Darius's 2nd, Crippling Strike, Fiora's 3rd, Bladework or Camille's 1st, Precision Protocol 
After the defensive stance ends, Jax damages everyone around him and stuns them at the same time. The damage he deals from this ability increases based on the number of attacks he dodged which caps after 5 attacks dodged.
You can still attack while Counter Strike is in effect and you can use your 1st, Leap Strike, to reposition yourself before Counter Strike ends or before you re-cast it.
R | Ultimate: Grandmaster's Might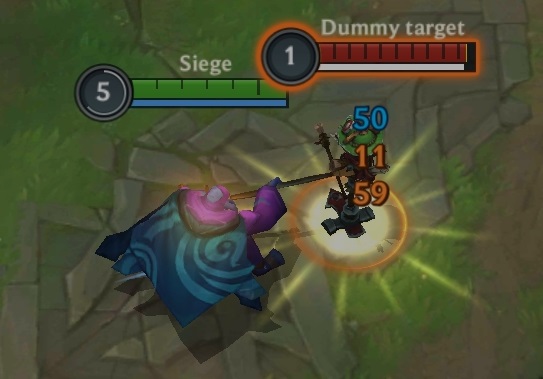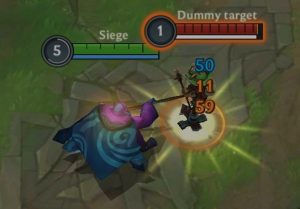 Grandmaster's Might has two parts. The first part is a passive which adds bonus magic damage to your third consecutive attack. The bonus damage affects all types of enemies you can hit.
Unfortunately, other than counting your attacks, there is no other way to know when the bonus damage will proc. It also has a relatively short timer which resets the attack counter if you are not attacking.
You can burst down an opponent by doing your combo when you have two stacks on hand by attacking minions or nearby monsters.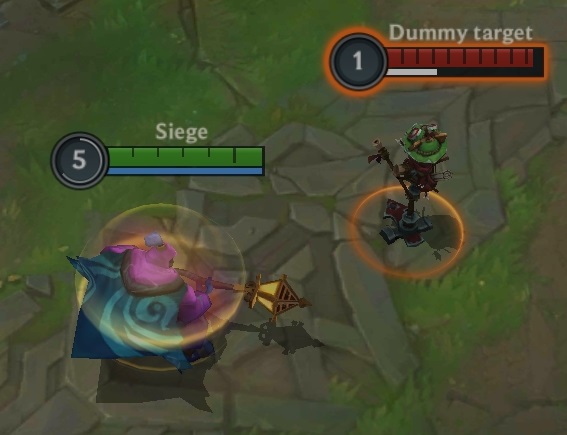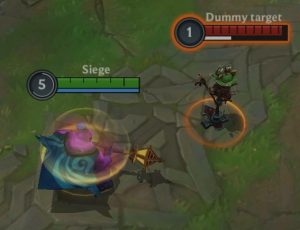 The second part of his ultimate is the active which grants him bonus armor which scales based on his bonus AD and magic resistance which scales on his AP.
Jax becomes extremely tanky when he activates his ultimate. It lasts only for eight seconds but that is usually enough to kill off an enemy or two or even three.
Combos: 
Full combo: Ult + 1st + AA + 2nd + AA + 3rd + AA + AA + AA
Stun initiation: 3rd + 1st + AA + 2nd + AA + Ult + AA +AA +AA
Jax Early Game Guide
Jax is a melee AD hyper carry so naturally, he is weaker than most champions in the early game to compensate for his strong late game. But this does not mean that he cannot trade favorably in the laning phase.
You just have to be smart about when to choose your trades and most of the time, you'll benefit from a passive lane so only trade as retaliation and for punishing enemies when they make mistakes.
your 3rd, Counter Strike only negates auto attacks and empowered attacks so the best time to go in on enemies is when they miss their offensive abilities. For example, when Darius uses his 1st, Decimate you can either move away and if you cannot do that, use 1st, Leap Strike to evade the edge of his axe which deals the most damage. Once you avoid his Q, Decimate, you can now activate 3rd, Counter Strike and hit him with a few auto attacks without being damaged in return. After you stun him, move away to reset his passive and return back to farming.
Jax Late Game Guide
In the middle and late game, Jax becomes a 1v1 monster and because of that, he is also a fearsome split pusher.
You will be split pushing lanes most of the time in order to pressure the side lanes and divide the enemy team. You are a strong 1v1 champion so the enemy will most like be forced to send at least two champions against you and when that happens, ping your team to force 4v3 fights.
If the enemy is engaging on your team on 4v5 fights you can either push until you destroy their inhibitor turrets or teleport into the fight. Try to look out for your team. If your team is contesting an important objective like the Fire Drake or Baron, you'll want to teleport most of the time.
If the fight is being drawn out into a stall, your presence might be enough to ace the enemy team but if your team is losing, it might be a better idea to push out another turret instead of dying alongside with your team.
Synergies
It is highly recommended using  Jax in Wild Rift with the following champions as they synergize well with him.

Jarvan IV has a good early game presence and team fight presence which gives enough room for Jax to release his full potential. His flag, Demacian Standard is also a great buff for Jax's attack speed.

Soraka can heal Jax even while he is split pushing from afar using her ultimate, Wish. 
All Jax Wild Rift Counter Champions
In this section, we'll tackle some of Jax Wild Rift Counters.

Malphite is a natural counter for Jax because of his innate defenses against physical damage as well as his ability to slow down the attack speed of his enemy champions. Because of this, laning against him is an impossible task. Just keep your head low and farm and be careful when he gets his ultimate first because he will try to kill you. In the late game, he becomes less of a problem but try to split push to draw him out because he is strong on 5v5 fights.

Camille is Jax on steroids. Yes, she has a higher skill floor and ceiling but she can do whatever Jax can do and more. The only problem is that she is a lot more punishing to play due to her high skill floor but in the hands of a good player, she is extremely deadly. She can do all that Jax can do, split push and carry and she has more mobility, a slow, an isolating ultimate, and the ability to dive carries. In their matchup, Jax is on the losing side in the early game and he can compensate in the late game being the champion with higher DPS but Camille can simply run it down in other lanes and help her teammates.
Pros & Cons About Jax
Here are some pros and cons if you are playing with Jax in Wild Rift.
Pros
Jax is a fighter who has hypercarry potential in the late game when played right.
He can 1v1 almost anyone in the late game which makes him a great split pusher because he can eat towers fast and can handle almost anyone thrown at him. If the enemy team sends 2 champions to defend against you, your team can simply force a 4v3 fight or take other objectives.
Jax is tanky enough to peel or initiate when he has his ultimate up and be able to deal damage at the same time.
Cons
Jax is a high-risk, high reward champion because if he loses his lane hard, he will have a hard time being relevant because he is item dependent.
He will lose his lane a lot of times because he has a weak early game stage and he is item dependent.
Jax can also be easily shut down by using attack speed debuffs such as Malphite's 3rd, Ground Slam, or Nasus's 2nd, Wither.
FAQ's About Jax in Wild Rift
How good is Jax in Wild Rift?
Jax is an (Tier S+) champion. He is a safe pick which can work in most cases although since Wild Rift is a mobile game with a smaller map, split pushers are not as effective so you have to carry a teleport so that you can go to your teammates when needed.
What role / lane should I play with Jax in Wild Rift?
Jax is played in the Baron lane as a melee AD carry split pushing duelist. He thrives on 1v1s and on quickly clearing turrets.
What abilities do I level up with Jax?
3rd, Counter Strike, gets the first point at level one because it can be used for a cheese play by hiding in a bush and surprising the enemy for an early advantage but it is maxed last because it provides enough utility at level 1. 2nd, Empower, is maxed first because it is your main source of damage then 1st, Leap Strike, is maxed second because it adds damage and mobility to your kit.
What items should I build with Jax?
Jax's core items are Trinity Force which gives him good all around stats and an ample amount of DPS and burst damage and Blade of the Ruined King which makes him a deadly opponent in 1v1 whether against tanks or ADCs thanks to its %HP damage and slow.
What Runes should I use when playing as Jax?
Conqueror – Jax's passive encourages drawn out fights and this Keystone Rune shines on exactly the same thing because it grants increasing damage bonus as the more instances of damage you can inflict which comes quickly because of Jax's fast attack speed. His other runes are Gathering Storm, Hunter – Titan, and Mastermind.
List of all Wild Rift Champion builds