Camille's pursuit of superiority through hextech body augmentation has left many to wonder if she is now more machine than human. Adaptable and precise, she views sloppy technique as an embarrassment that must be put to order. Camille is a versatile mobile bruiser who excels in split pushing and duels. She is a high skill ceiling champion that can be played in many roles and fit most team compositions.
Abilities

Attacking an enemy champion grants a shield that absorbs 130 physical/magic damage (20% HP) for 2s.
The shield type is based on the type of damage the attacked target deals.

Empowers the next attack to deal 70 physical damage (120% AD) and grant 25% Movement Speed for 1s. Precision protocol can then be recast within 3.5s.
If the second Precision Protocol hits 1.5s after the first, it deals true damage instead.

Slices in a direction, dealing 70 physical damage (70 + 70% bonus AD). Enemies hit by the outer half are slowed by 80% for 2s and take bonus physical damage equal to 6% (6% + 0.03% AD) of their maximum Health.
Camille heals for 100% of the bonus damage dealt to champions.

First Cast: Fires a hookshot that attaches to terrain, pulling Camille to it.
Second Cast: Dashes from the wall, dealing 60 physical damage (60 +75% bonus AD) on landing. If the dash hits an enemy champion, they are stunned for 1s and Camille gains 50% Attack Speed for 5s.

The Hextech Ultimatum
Active
Leap to an enemy champion, dealing magic damage equal to 100 plus 10% of their current Health, knocking away other enemies and creating an inescapable zone for 2.5s.
Hextech Ultimatum ends when Camille leaves the zone.
Abilities Analysis
Innate: Adaptive Defenses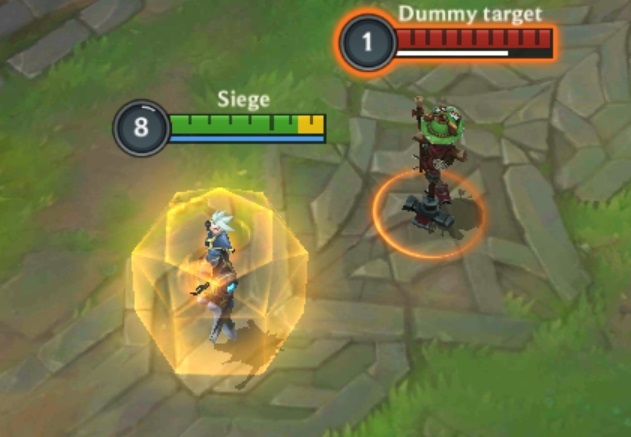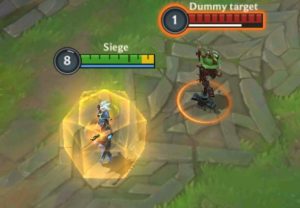 Adaptive Defenses grants a shield when Camille auto attacks an enemy champion. The shield can be a physical or magical shield that depends on the type of damage the target enemy deals the most.
The shield is a great mechanic that should definitely abused in trading with enemy champions in the early game. 20% HP is a lot and will cause you to win most early game trades when utilized well.
Q / Ability 1: Precision Protocol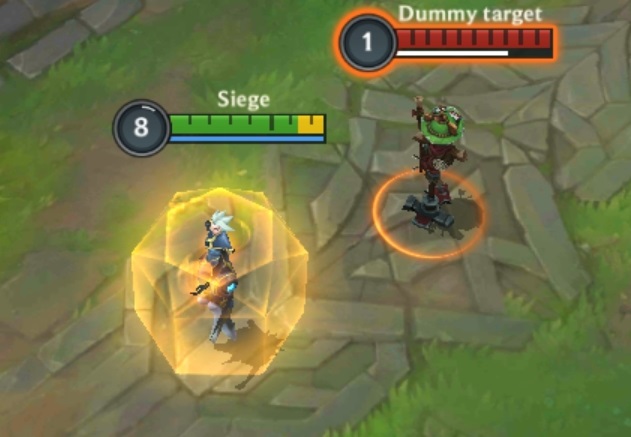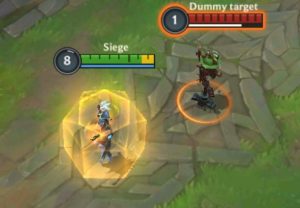 Precision Protocol is your main source of damage. It can be casted twice and the second twice, if used after a short delay, deals true damage.
Both cast of Precision Protocol resets your auto attack so remember to do an auto attack – Q combo to maximize damage with it.
Use this ability to secure last hits. After the first cast, walk towards the enemy champion to bully them away from the lane. If they fight, punish them with the true damage. If they walk away, use the second cast to secure a last hit.
W / Ability 2: Tactical Sweep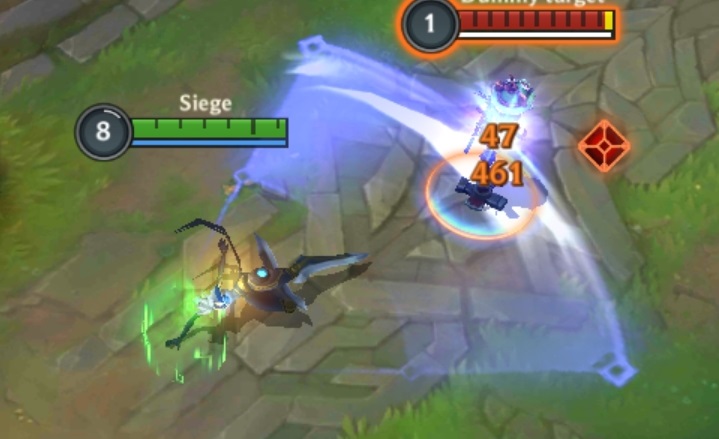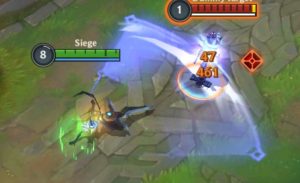 Tactical Sweep deals % based bonus damage on its outer edge and slows the opponents as well. It serves as a good poke in the laning phase and a potent burst damage ability when used in a combo together with her E, Hookshot. When Tactical Sweep successfully hit champions using the outer edge of the skill, she is healed based on the bonus damage.
E / Ability 3: Hookshot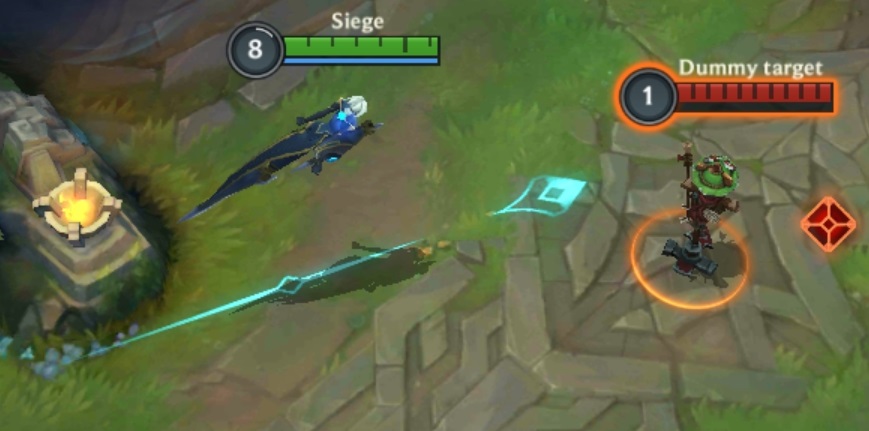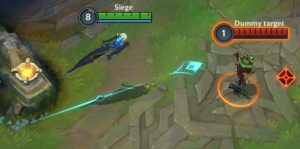 Hookshot is Camille's bread and butter ability. This is the ability that allows her to split push, win trades, assassinate, and escape. The ability requires her to latch to a wall then launch again towards the target direction. If she collides with an enemy on the second dash, the enemy is damaged and stunned while Camille gains an attack speed bonus.
Hookshot can be used together with Tactical Sweep for a surprising amount of burst damage. The timing requires practice but it is worth it to learn.
Do not use the ability carelessly because if you mess it up, you miss the opportunity to stun the enemy and gain an attack speed boost.
There are certain areas with high walls which you are able to latch unto but not pass through, those are areas usually not accessible to other flash and dash skills as well.
R / Ultimate: Hextech Ultimatum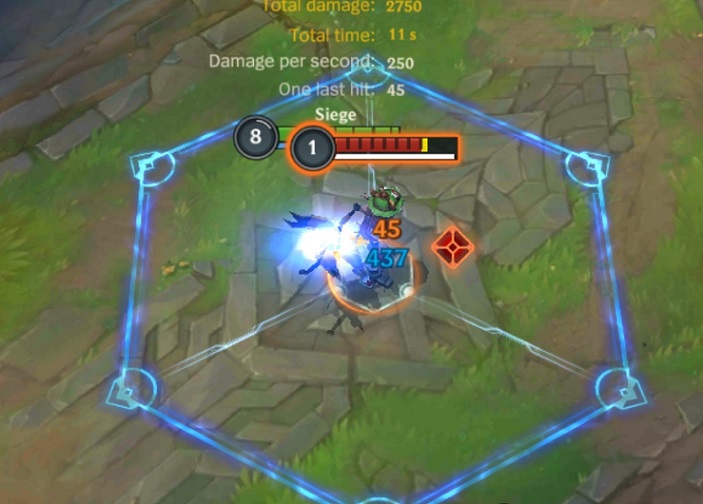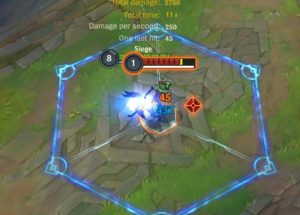 Hextech Ultimatum deals burst magic damage to an enemy champion and knocks back enemies around the area that is not the target. The target is then imprisoned in a hexagonal cage that is inescapable by any means, even using blinks, dash, or the Flash tactic.
Hextech Ultimatum is a great way to finish off mobile champions like Ezreal or Zed.
When Hextech Ultimatum is casted, Camille becomes untargetable during its casting animation which makes it a great outplay tool to dodge strong abilities such as Fizz's Chum of the Waters or even Garen's Demacian Justice.
Combos:
Lane Trading Combo 1: AA (Auto attack) – Q – AA – Q
Lane Trading Combo 2: AA (Auto attack) – Q – W – AA – Q
All in – W – E – W – AA- Q – R – AA – Q
Camille Build Recommendation
Here are Item Build Recommedation that works on Camille
Steel Shadow Standard
This is the standard build for Camille which balanced her offensive and defensive stats.
 Trinity Force – The staple item for Camille because she needs the Spellblade passive which synergizes with her Q, Precision Protocol, to deal burst damage. She also benefits from the attack speed bonus this item gives because it synergizes well with the bonus from E, Hookshot.
 Sterak's Gage – This item increases her base damage, HP, and grants the lifeline passive which grants her a shield when her HP drops below a certain percentage.
 Gluttonous Greaves – Grants her Omnivamp which will make her more sustainable in fights. Upgrade with the Teleport Enchant to increase her split pushing potential. Upgrading with the Glorious Enchant is also viable for a more aggressive play style.
 Dead Man's Plate – Increase her survivability and chasing potential with this item which grants movement speed bonus and a slowing effect to a basic attack thanks to the Crushing Blow passive.
 Spirit Visage – This item increases her magic resist and the healing she receives allowing her to stay in fights for longer.
 Guardian Angel – The resurrect passive is simply overpowered on her as she is already hard to kill. The passive effect grants you a wider margin for error for the later stages of the game.
Deadly Steel Shadow
This item build is effective against high armor and burst damage champions at the same time. This focuses on being a high risk, high reward Camille play style.
Death's Dance – Grants HP, damage, physical vamp and the Cauterize passive which converts a portion of burst damage into damage over time so you'll have more room to fight back against burst damage champions.
Mortal Reminder – Provides armor penetration and Grievous Wounds to enemies hit with auto attack which are excellent against high armor and high sustain champions.
Runes
Conqueror – Grants more bonus damage each time Camille deals damage. With Camille's combo and fast attack speed, the max bonus damage will easily be achieved.
Brutal – Provides bonus AD and armor penetration.
Backbone – adds bonus armor or magic resist depending on which value is lower.
Sweet Tooth – Grants bonus gold and HP regen on eating honeyfruits. Great for playing in the top lane for Camille.
Mastermind – makes Camille deal bonus damage to Epic Monsters and Turrets which is perfect for a split pushing type Camille.
Spells

Finish off champions when winning trades in the top lane with Ignite. This spell also augments your burst damage for easy pick offs at any stage of the game.

Make risky plays with your Hookshot when Flash is available. This summoner spell makes your unparalleled mobility all the more so dangerous.

Always choose Smite when playing as a jungler. Since you already have high mobility and damage, upgrade into the Red Smite so you will always have the upper hand on duels.
Skill Progression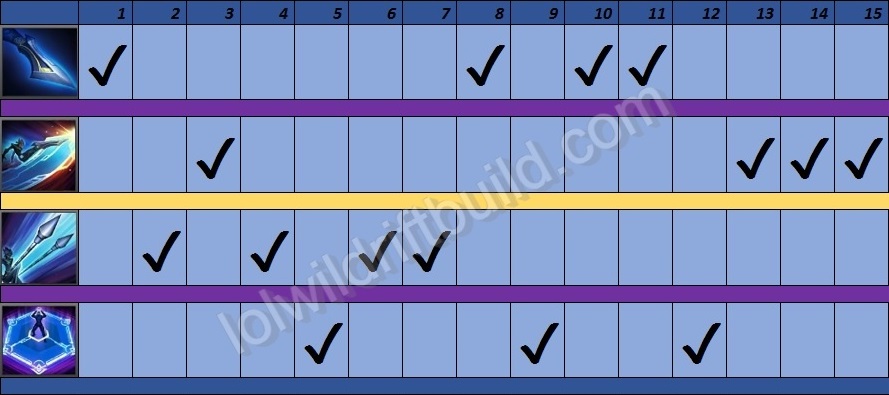 This skill progression is for a top lane Camille. If you are going to play her as a Jungle, it is advisable to level up her E, Hookshot first for the bonus attack speed. We are going to max E first to increase her attack speed for the faster clear. It is the most advisable way because her Q and W's damage does not scale well with ability level but scales with damage instead for Precision Protocol and the Enemy's HP for Tactical Sweep. Take a point for Hextech Ultimatum whenever possible.
Synergies

Akali thrives in a chaotic battlefield which Camille can provide. She has amazing mobility as well which can keep up with Camille's Pace. These two champion together can wreak havoc to an entire enemy team if given the chance.
Counter Champion

Fiora has the mobility and kit to outplay Camille. This two are a high skill matchup but a single well timed Riposte will easily turn the tide of battle into Fiora's side. It does not help that Camille's abilities have long winding tells which make the timing easier to predict.
Here are some pros and cons if you are playing with Camille in Wild Rift.
Pros
Camille is a versatile champion which can fit almost all types of team compositions. She can be built into a bruiser, tank, or even an assassin.
She is decent at all stages of the game but she has an amazing mid game power spike that can carry her team to victory.
She has an all around stats which makes her reliable for most situations.
Cons
High skill floor and skill ceiling. This means that she is not easy to pick up because of her mechanically intensive nature. Her skills are unforgiving as it won't grant some effects if you do not execute it properly, like on her E, Hookshot which won't give the crucial attack speed bonus when it does not hit an enemy champion.
Camille falls behind and struggles quickly in a losing game so she's like a high risk, high reward type of champion.