Nasus is an imposing, jackal-headed Ascended being from ancient Shurima, a heroic figure regarded as a demigod by the people of the desert. Nasus is a scaling monster which only gets stronger as the game goes by thanks to the unlimited stacking potential with his Q, Siphoning Strike. He can easily run down carries and towers if left unchecked.
Abilities


Empowers next attack within 10 seconds to deal an additional 25 physical damage (25 + 0).
If Siphoning Strike kills the target, its damage is permanently increased by 4.
Killing champions, large minions and large monsters increases Siphoning Strike's damage by 8 instead.

Slows enemy Movement Speed by 35% and Attack Speed by 22.5% for 5 seconds. The Movement Speed slow increases to 45% over the duration.

Creates a flaming zone, dealing 55 magic damage (55 + 40% AP). The zone persists for 5 seconds, dealing 11 magic damage (11 +12% AP) over time and reducing Armor by 15%.

Enhances himself to gain 300 Health, 25 Armor and Magic Resist for 15 seconds. Deals magic damage to nearby enemies equal to 3% (3 + 0.01% AP) of their Health during the duration.
Siphoning Strike's cooldown is reduced by 50% during the duration.
Abilities Analysis
Innate: Soul Eater
Soul Eater grants Nasus a substantial amount of physical vamp. The passive works in conjuction with the high damage provided by his Q, Siphoning Strike. This helps him sustain his weak early game and when he is stacked up, the strong damage from his Q heals him for a large amount.
Q / Ability 1: Siphoning Strike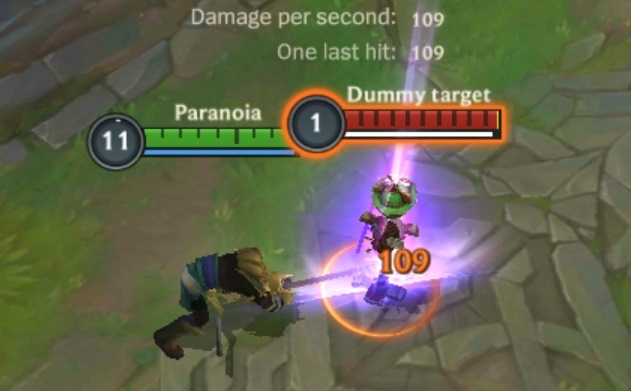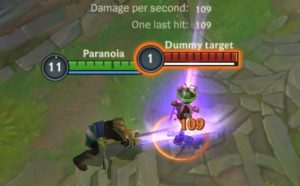 Siphoning Strike is Nasus's signature skill. This ability is what gives Nasus his late game god-like potential where he can literally two shot opponents if he is left unchecked.
Nasus's early game is really weak to compensate with his late game potential so you should focus on last hitting using Siphoning Strike first.
This ability is an auto reset which increases his damage output and because of this it may be tempting to trade with the enemy using Siphoning Strike but it is an unwise decision for most cases because you will be forgoing a stack just to damage your opponent. The wisest option is to simply freeze your lane and unleash your wrath in the mid to late game.
Remember to always last hit the cannons using Siphoning Strike because it gives double stacks.
W / Ability 2: Wither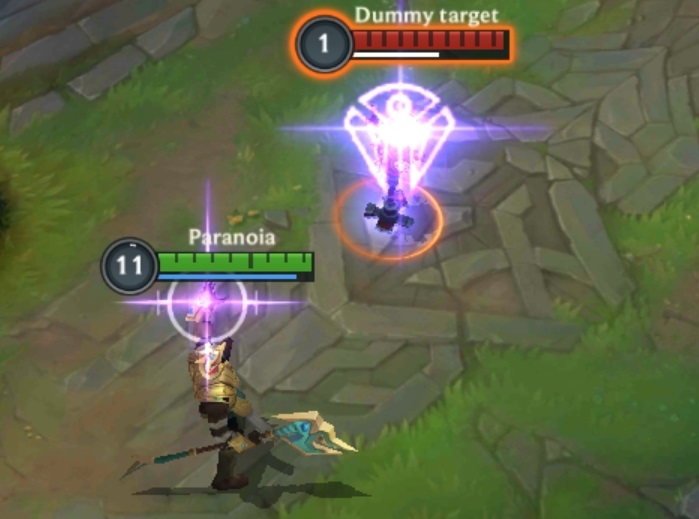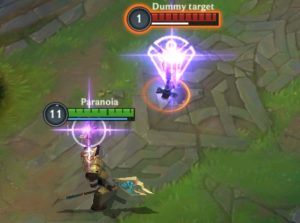 Wither is an underrated ability of Nasus. It slows down the attack speed and movement speed of the target enemy for a fairly long duration.
Call a gank when you are being oppressed into your tower because a simple Wither and a gank to an overextended opponent is an easy takedown.
In the late game, reserve your Wither for the enemy's ADC so you can reduce their damage output and it is possible to kill them within the duration of Wither. This ability allows you to 1v1 any ADC in the late game and come out on top.
E / Ability 3: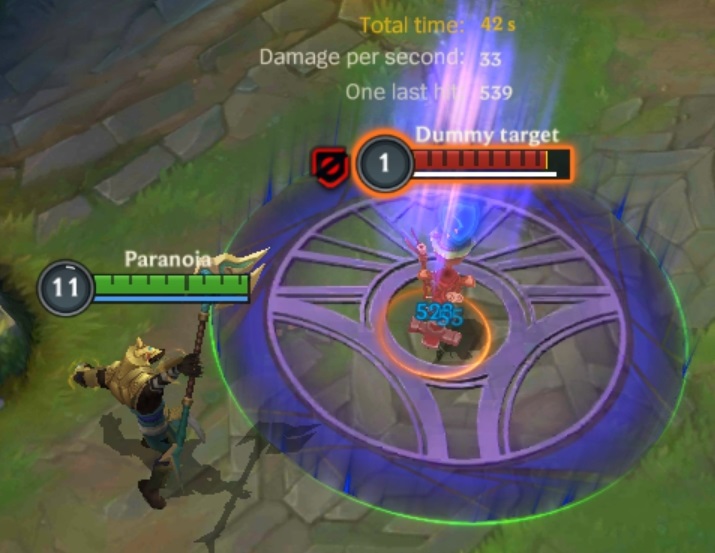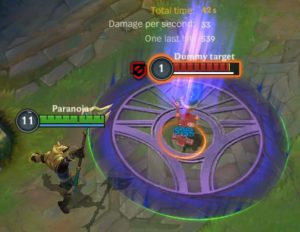 Spirit Fire deals AoE damage and reduces the armor of those affected by it.
This ability is your and your tower's lifeline in the early game. Use Spirit Fire when you are being pushed into your tower so you can manage it faster. Also, use it to last hit the cannons if you are being zoned away from it.
In the mid and late game, use it to shove waves faster and use it in combination with W, Wither, for duels to deal more damage with your Q, Siphoning Strike.
R / Ultimate: Fury of the Sands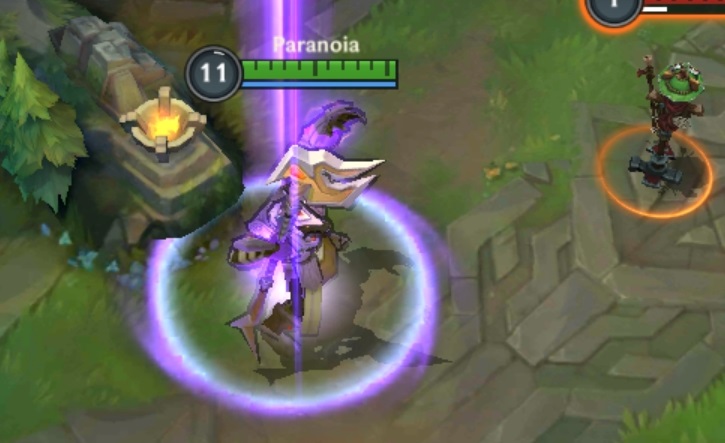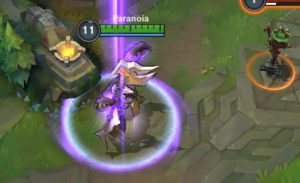 Fury of the Sands gives Nasus his god-like stature as it grants him increased health, armor, magic resist and it grants him an immolation effect that deals magic damage to nearby enemies based on their HP. It also reduces the cooldown of your Spirit Siphon by half. Not to mention, it literally increases his size which makes him a literally imposing being.
Use it while in the middle of the fight but don't wait too late to use it. Use it while you have more than 70% health so you can make the most out of it. Best case scenario, you'll stomp them out and best case scenario is you'll create space for your team to push or take objectives.
Nasus Build Recommendation
Here are Item Build Recommedation that works on Nasus
Egyptian God of Fighting
This is the standard build for Nasus which balances offense and defense for a god-like late game presence.
 Trinity Force – This item grants Nasus everything he needs, the attack damage, health, cooldown reduction, attack speed, and the flurry of movement speed bonus is great for him. The high gold cost is not an issue for Nasus because you are supposed to farm for the whole early game stage.
 Dead Man's Plate – The bonus movement speed and added slow effect on your attack thanks to the Crushing Blow passive, helps with Nasus's issue of being kited easily.
 Boots of Swiftness – Grants the highest amount of movement speed to further increase your ability to run down opponents. Upgrade with the Teleport Enchant for a split pushing strategy or upgrade with the Glorious Enchant for a more aggressive play style.
 Spirit Visage – This item is your go-to anti AP item because it synergizes with your passive by increasing all the healing you receive, including physical vamp.
 Death's Dance – Increases your lifesteal and grants the Cauterize passive which converts burst damage into DPS which helps you survive being in the middle of clashes.
 Guardian Angel – Grants you a second life once in a while thanks to the Resurrect passive. This allows for reckless plays with your ultimate.
Egyptian God of Tanking
This alternative build for Nasus focuses on him being more a tanky frontliner for the team.
 Iceborn Gauntlet – This is your alternative for Trinity Force. This grants more utility (AoE slow) and survivability for Nasus in exchange for the lower damage output that Trinity Force gives.
 Thornmail – This item counters high DPS lifestealers which can be annoying to deal with. The return damage and Grievous Wounds effect will make them think twice about killing you.
Runes
Grasp of the Undying – Deals increased damage and heals on attack every 4 seconds in combat. This rune is useful for sustaining in short trades in the early game and extended duels in the late game.
Gathering Storm – Grants increasing bonus AD as time passes by which is perfect for Nasus's time bomb-like nature. This can be substituted with Weakness which grants bonus damage when your W, Wither is active on a target.
Spirit Walker – Grants bonus HP and slow resistance which synergizes with Boots of Swiftness.
Sweet Tooth – Grants additional heal and bonus gold when eating honeyfruits.
Spells

Ghost allows you to run down opponents. This summoner spell will be mostly used for offensive situations so you won't get kited and you'll be able to make full use of your ultimate.

Since Ghost will be used offensively, reserve your Flash for escaping.
Skill Progression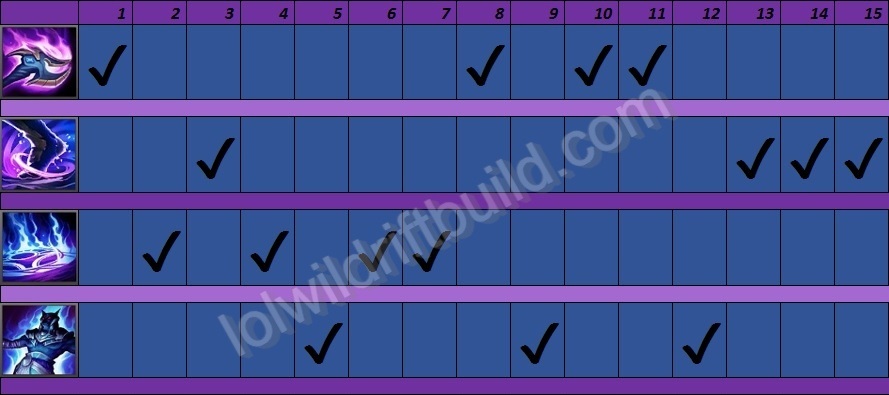 Get a point of Q, Siphoning Strike at level 1 so you can build your stack immediately. After getting a point in W and E, we will max E, Spirit Fire first so you'll have enough waveclear and harass against an oppressive lane. If you are somehow winning, maxing Q first is recommended. We will max W, Wither, last because 1 point is enough for the early and mid game and duels in early stages of the game should be avoided by Nasus. Get a point in Fury of the Sands whenever possible.
Synergies

Lee Sin provides great early game map pressure which allows Nasus to farm freely and unnoticed. When the late game comes, Lee Sin will be able to pick off anyone who escapes Nasus and at the same time, Nasus can provide chaos where Lee Sin can make plays easier.
Counter Champion

Camille is an oppressive top laner and at the same time she has high mobility and has a slow and stun which can make Nasus's life hard all game long.
Here are some pros and cons if you are playing with Nasus in Wild Rift.
Pros
Unlimited stacks for Nasus means he has unlimited damage potential which makes for cool 1 combo takedowns.
Even with the high damage, Nasus is tanky enough to stay in the middle of fights.
He has plenty of utility with his slow and armor reduction abilities.
Cons
One of the weakest hero in the early game.
It is very hard to comeback with Nasus and he'll easily become a walking gold source when he is behind farm.
Easily managed by kiting and crowd control.