LoL Wild Rift Renekton ARAM Build - Items, Runes , Counter Guide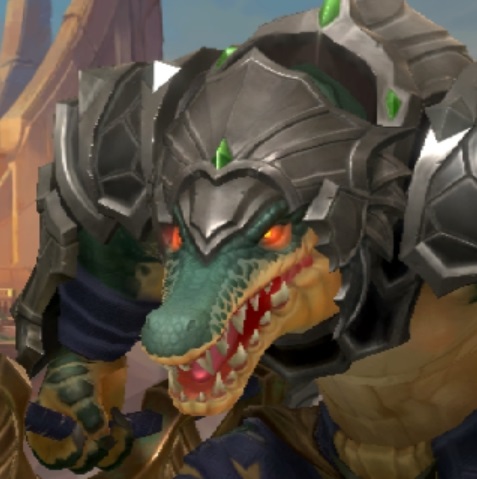 Class: Fighter
Renekton ARAM Build, Runes Guide
Recommendations on item build and runes for Renekton in ARAM (All Mid All Random) Mode in Wild Rift, along with a general guide to play Renekton in ARAM Mode.
Check Renekton Main Guide.
Recommended Builds
Renekton is a great tank in ARAM. Because of the small map of ARAM, Renekton's 1st ability, Cull the Meek can easily catch multiple enemy champions, damaging them and granting a lot of healing for Renekton.
Use Renekton's basic combo, 3rd -> 2nd -> 1st – 3rd as often as possible to deal lots of damage to your enemies. If there is no enemy champion near you after your first dash, do not hesitate to forgo using Renekton's 2nd ability, Ruthless Predator so you can get out fast using the second dash of Renekton's 3rd ability, Slice and Dice.
Do not be stingy in using Renekton's ultimate, Dominus. Use it at the start of fights so you can gain a lot of Fury during its duration and so you can make full use of the magic damage over time of Dominus. 
Renekton Build Recommendation in Wild Rift
Here are Item Build Recommedations that works on Renekton in Wild Rift ARAM Mode.

 Death's Dance grants physical vamp and the Cauterize passive that will allow Renekton to absorb a lot of burst damage.

Black Cleaver shreds the armor of enemies and it synergizes with the Fury'd version of Slice and Dice.

Sterak's Gage grants a lot of AD and the lifeline passive that will help Renekton in clutch situations.
If your team has no tanks or if you simply love running it down,

Sunfire Aegis,

Warmog's Armor, and

Spirit Visage grants Renekton unlimited HP.
Runes
Renekton can easily activate the full stack of Conqueror with his basic combos and he is able to enjoy its full effects because he loves extended fights, especially in the mid to late game. Hunter – Vampirism grants more physical vamp that Renekton simply loves because of his high damage output. Hunter – Titan helps against crowd controls and Hunter – Genius grants ability haste so Renekton can spam his abilities as often as possible.
Summoner Spells

Mark/Dash allows Renekton to snipe down fleeing enemies. Once he uses the Dash, he can just activate his 2nd ability, Ruthless Predator, and stun his prey.

Renekton can use Flash to burst down a fleeing low HP enemy or he can use it after diving to escape turret shots or enemy champions.
Other Champions ARAM Guides