LoL Wild Rift Katarina ARAM Build - Items, Runes , Counter Guide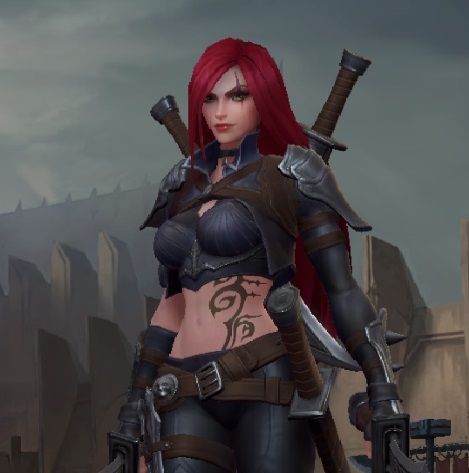 Class: Assassin
Katarina ARAM Build, Runes Guide
Recommendations on item build and runes for Katarina in ARAM (All Mid All Random) Mode in Wild Rift, along with a general guide to play Katarina in ARAM Mode.
Check Katarina Main Guide.
Recommended Builds
Katarina's passive, Voracity reduces the cooldown of all her abilities on takedowns, coupled with ARAM's ability haste on all champions, Katarina can easily snowball a fight, killing champion one by one through her cooldown resets. Ang along with her cooldown resets are her flurry of daggers which activates her other passive when she picks those daggers up for more damage.
Katarina's 1st, Bouncing Blade is a great way to deal damage to enemy champions while she is waiting for an opportunity to all-in as it has long-range and bounces from enemy to enemy. It also leaves a dagger directly behind her first target.
2nd, Preparation increases her movement speed and drops a dagger at the location she cast it. It is a great way to leave a dagger to escape on if you want to do an in-and-out strategy.
3rd, Shunpo is a targeted blink ability that can be used on allies, enemies, and on your daggers. This ability's cooldown is greatly reduced when picking up daggers so remember to set up daggers beforehand so you won't be caught out of position with a 3rd, Shunpo. 
Katarina's ultimate, Death Lotus deals massive damage to the three nearest enemies and applies Grievous Wounds. You can still proc the Voracity passive if you pick up daggers while Death Lotus is active so remember to use your first two abilities before activating your ultimate. The best time to activate your ultimate is when there is a dying enemy so you can reactivate it immediately thanks to your passive cooldown resets.
Katarina Build Recommendation in Wild Rift
Here are Item Build Recommedations that works on Katarina in Wild Rift ARAM Mode.

 Vampiric Scepter and eventually,

Hextech Gunblade will allow you to sustain yourself through damaging enemies. After that, you should buy

 Infinity Orb to increase your damage on low HP enemies to increase damage on low HP enemies, allowing you to easily clean up fights. Or you can but

Liandry's Torment if enemies has a lot of tanky enemies. Afterwards, buy

Rabadon's Deathcap and

Void Staff to increase Katarina's burst damage potential.
Runes
Conqueror grants more scaling damage into the late game and makes you hit harder the longer the fight drags on.
Triumph grants bonus execution damage on low HP targets and heals you for a percentage of your missing health on takedowns.
Hunter – Titan grants bonus health and tenacity on unique takedowns.
Hunter – Genius grants ability haste so you can spam your abilities more often.
Summoner Spells

Barrier is useful if you are caught out of position and when you want to go all-in to finish off enemies.

Use Flash in case an enemy manages to get near you.
Other Champions ARAM Guides