LoL Wild Rift Soraka ARAM Build - Items, Runes , Counter Guide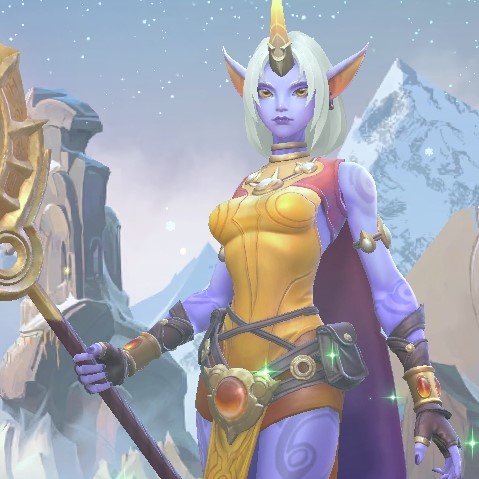 Class: Support
Soraka ARAM Build, Runes Guide
Recommendations on item build and runes for Soraka in ARAM (All Mid All Random) Mode in Wild Rift, along with a general guide to play Soraka in ARAM Mode.
Check Soraka Main Guide.
Recommended Builds
Soraka's passive, Salvation grants her bonus movement speed when running towards an ally with low HP. If you have recently respawned, run in the direction of a low HP teammate.
1st, Starcall deals damage and slows in an area. You absolutely have to hit 1st, Starcall if you want to survive in the early game because hitting enemies will grant you Rejuvenation which grants you healing. Rejuvenation can be shared with your allies through your 2nd, Astral Infusion. 
2nd, Astral Infusion heals your allies and applies Rejuvenation if you have it at the cost of your own health.
3rd, Equinox creates a zone that damages and silences enemies. After the zone expires, enemies still in the zone are rooted and damaged again. This is great as a follow-up crowd control to extend the duration the enemy's movement is impaired.
Soraka's ultimate is Wish. Wish is a global heal and its healing value increases by a lot when your allies are below 35% health. Wait for one of your teammates get below the health threshold to maximize your ultimate's effects.
Soraka Build Recommendation in Wild Rift
Here are Item Build Recommedations that works on Soraka in Wild Rift ARAM Mode.
The double AP and mana scaling from

Archangel's Staff and

Rod of Ages solves the mana issues that come along from spamming Soraka's heals but the problem is that Soraka's heals also cost HP. To solve this, we will also buy

Warmog's Armor and

Spirit Visage so that you can get fast out-of-combat regeneration and higher healing from your own Rejuvenation and Wish.
Runes
Aery grants consistent bonus damage and an additional shielding effect on your abilities.
Gathering Storm increases your AP the longer the game goes on, scaling both your damage and healing.
Regeneration adds a little more sustain.
Hunter – Genius grants ability haste so you can spam your abilities more often.
Summoner Spells
Clarity will solve all your mana problems along with Archangel's Staff.

Flash out if an enemy manages to get near you.

Other Champions ARAM Guides