LoL Wild Rift Nami ARAM Build - Items, Runes , Counter Guide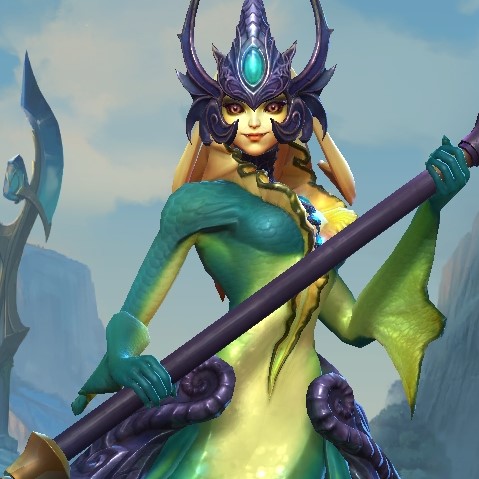 Class: Support
Nami ARAM Build, Runes Guide
Recommendations on item build and runes for Nami in ARAM (All Mid All Random) Mode in Wild Rift, along with a general guide to play Nami in ARAM Mode.
Check Nami Main Guide.
Recommended Builds
Nami's passive, Surging Tides grants bonus movement speed to your allies when they are touched by Nami's abilities. The major importance of this in ARAM is that it will give your team the edge to initiate team fights and make dodging skill shots easier for your team. 1st, Aqua Prison is easier to hit on ARAM since it is crowded and once you hit it and your ally has other crowd control abilities, it will usually be a sure kill. If you have trouble hitting enemies with her 1st, Aqua Prison, you can use it to follow up on your ally's crowd controls or at least, wait for your enemies to be slowed with her 3rd, Tidecaller's Blessing first so it will be easier to hit them with your own skill shots. 2nd, Ebb and Flow is way easier to maximize in ARAM, target an ally near an enemy to make it bounce twice to your allies to heal two allies. or target an enemy first to make it bounce and hit enemies twice. Always align your ultimate, Tidal Wave to move parallel to ARAM's map to maximize its effect.
Nami Build Recommendation in Wild Rift
Here are Item Build Recommedations that works on Nami in Wild Rift ARAM Mode.

 Rod of Ages will allow Nami to have enough HP, Mana, and AP to sustain herself and her team throughout the game.

Ionian Boots of Lucidity grants ability haste and summoner spell haste so you can use them more often. Upgrade with the

Redeeming Enchant for additional AoE healing or upgrade with the

Shadows Enchant for the slow as an additional offensive/defensive option. If your team has enough damage, build

Harmonic Echo and

Ardent Censer to increase your healing and buffing power or if you want to deal damage yourself, build

Liandry's Torment and rush

Rabadon's Deathcap instead. As your luxury build, build

Rykai's Crystal Scepter for more slows or

Awakened Soulstealer for more ability haste and ultimate haste so you can spam your ultimate ability more often.
Runes
Aery deals additional damage to enemies you hit with your auto-attack or abilities while healing and shielding allies will make Aery grant additional shielding effect. Weakness is fully utilized on Nami because her 3rd, Tidecaller's Blessing is a guaranteed slow so enemies will almost always receive the 5% damage amplification. Regeneration will help you sustain your HP and mana in the early game. And finally, Hunter – Genius grants additional ability haste for each unique takedown.
Summoner Spells
Clarity will solve all your and your ally's mana problems.

Flash out if an enemy manages to get near you.

Other Champions ARAM Guides