LoL Wild Rift Gragas ARAM Build - Items, Runes , Counter Guide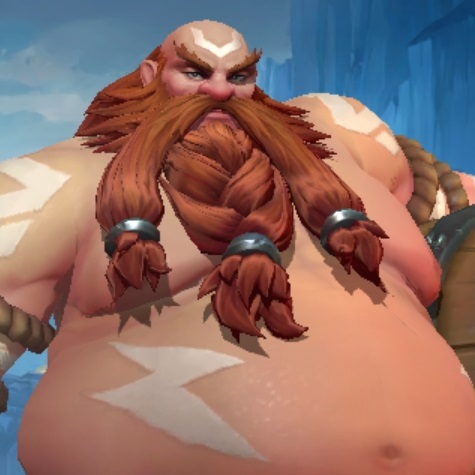 Class: Tank
Gragas ARAM Build, Runes Guide
Recommendations on item build and runes for Gragas in ARAM (All Mid All Random) Mode in Wild Rift, along with a general guide to play Gragas in ARAM Mode.
Check Gragas Main Guide.
Recommended Builds
Gragas's passive, Happy Hour heals him once in a while when he uses his ability. In the absence of the fountain regeneration in ARAM, this becomes a lot more valuable to Gragas.
1st, Barrel Roll is your main poke tool. It's hard to set up a maximum ferment barrel but you can do it with the help of your ally's crowd controls. But that won't be always possible. Activate immediately to poke enemies or leave to zone them out.
Use the damage reduction of 2nd, Drunken Rage to soak damage when you cannot avoid it. The empowered attack deals a lot of damage especially against tanks and it is great when combined with your 3rd, Body Slam. 
3rd, Body Slam is your crowd control and your initiation tool. Combine with Mark/Dash and Flash for surprising initiations.
Scatter your enemies and deal massive damage using your ultimate, Explosive Cask. It is a great initiation, disengage tool, and execution ability.
Gragas Build Recommendation in Wild Rift
Here are Item Build Recommedations that works on Gragas in Wild Rift ARAM Mode.

 Rod of Ages is a must for Gragas in ARAM. It gives a good amount of HP, mana, and AP so that you will be able to tank, spam, and deal damage in equal effectiveness. Afterwards, you can choose to either build AP with

Luden's Echo and

Rabadon's Deathcap for more poking and burst damage but you should build

Warmog's Armor and

Sunfire Aegis if your team has no tanks who can initiate fights and absorb damage.
Once you have your core items, buy

Awakened Soulstealer to stack ultimate haste so you can spam Gragas's ultimate, Explosive Cask as much as possible.
Runes
Conqueror grants more scaling damage into the late game and makes you hit harder the longer the fight drags on.
Brutal grants bonus damage and penetration.
Regeneration adds a little more sustain.
Hunter – Genius grants ability haste so you can spam your abilities more often.
Summoner Spells

Mark/Dash allows you to surprise enemies with your ultimate when used in combination with the Dash. 

Flash is the standard initiation tool to surprise your enemies.
Other Champions ARAM Guides