LoL Wild Rift Vi ARAM Build - Items, Runes , Counter Guide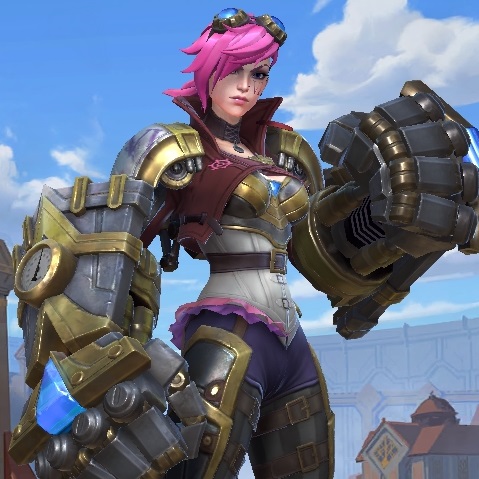 Class: Fighter
Vi ARAM Build, Runes Guide
Recommendations on item build and runes for Vi in ARAM (All Mid All Random) Mode in Wild Rift, along with a general guide to play Vi in ARAM Mode.
Check Vi Main Guide.
Recommended Builds
Vi is one of the Bruisers who can actually be viable in ARAM. Thanks to her 3rd ability, Excessive Force, she can poke the enemy team because it makes her attacks deal damage to a cone area behind her initial target. She can also easily dive into the backlines and separate the enemy team using her ultimate, Assault and Battery. You just have to time using her ultimate because it can backfire into the enemy team collapsing into your helpless, isolated self.
Vi Build Recommendation in Wild Rift
Here are Item Build Recommedations that works on Vi in Wild Rift ARAM Mode.

 Trinity Force makes Vi's 3rd ability, Excessive Force hit like a truck.

Sterak's Gage increases base damage and so it will also pile up to Trinity Force's Spellblade bonus damage.

Warmog's Armor is bought early because you will always be diving enemy lines in ARAM and so, its Warmog's Heart passive will allow you to recover your HP fast just by leaving battle for a short while. You can buy

Winter's Approach as an alternative first item if your team badly needs a tank and a controller if your team lacks the aforementioned roles.
Runes
Conqueror is great for extended trades where Vi can be adequately proficient because of her balanced offense and defense. Aftershock, on the other hand, will allow Vi to survive diving for longer thanks to the bonus armor and magic resistance whenever she controls an enemy. Conditioning will help Vi scale into the late game even without damage items. Second Wind will help against pokes thanks to the bonus HP regeneration and Hunter – Genius grants bonus ability haste for each unique takedown so you can have access to her abilities, especially her ultimate as often as possible.
Summoner Spells

Mark/Dash allows for surprising initiations and for sniping down low HP targets.

Flash is needed so you can escape dangerous situations after a risky dive.
Other Champions ARAM Guides