LoL Wild Rift Graves ARAM Build - Items, Runes , Counter Guide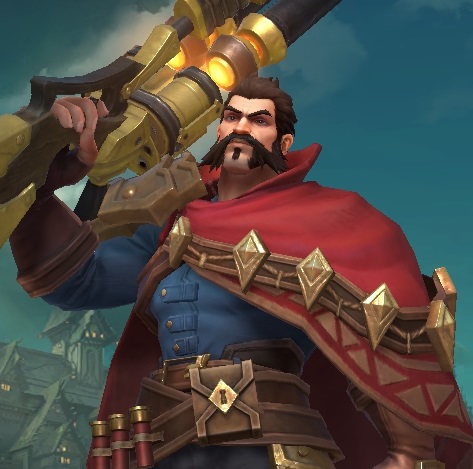 Class: Fighter
Graves ARAM Build, Runes Guide
Recommendations on item build and runes for Graves in ARAM (All Mid All Random) Mode in Wild Rift, along with a general guide to play Graves in ARAM Mode.
Check Graves Main Guide.
Recommended Builds
Graves has a unique auto-attack mechanic in which he has the shortest attack among ADCs and he has only two bullets for each round of attack. Because of this, he has a harder time in ARAM in the early game compared to most ADCs.
Even so, Graves can still poke enemies through his 1st ability, End of the Line. Remember that it bounces back faster when it hits a wall so make sure to angle it towards one if your target is close enough to a wall.
Graves's best ability in ARAM is his 2nd ability, Smoke Screen. Because of ARAM's small map, he can easily conceal the vision of multiple enemies or zone enemies out of a certain direction.
Make sure to time your auto-attacks so you can maintain a high stack of his 3rd ability, Quickdraw's Grit passive.
And finally, use Graves's ultimate, Collateral damage to snipe down low HP enemies from a distance.
Graves Build Recommendation in Wild Rift
Here are Item Build Recommedations that works on Graves in Wild Rift ARAM Mode.
Because Graves has limited mobility, it is best to build him as a bruiser with lots of HP and hybrid items like

Death's Dance,

Black Cleaver, and

Phantom Dancer. But if you have a tank and a support with healing in your team, you can build him with lots of damage items like

Blade of the Ruined King,

Infinity Edge, and

Statikk Shiv so you can carry the game.
Runes
Fleet Footwork grants some healing and movement speed bonus to your auto-attacks once in a while. Phase Rush on the other hand grants more movement speed bonus after three consecutive attacks but it does not grant any healing. Hunter – Vampirism grants a stacking attack and vamp bonus while Brutal grants a flat AD and penetration bonus. Adaptive Carapace grants bonus HP and adaptive resistance and finally, Hunter – Genius grants a stacking ability haste bonus.
Summoner Spells

Clarity will help you sustain your mana and your teammate's throughout the game without having to buy a Tear of the Goddess item.

Flash will help you secure kills and escape dangerous situations.
Other Champions ARAM Guides