LoL Wild Rift Rakan ARAM Build - Items, Runes , Counter Guide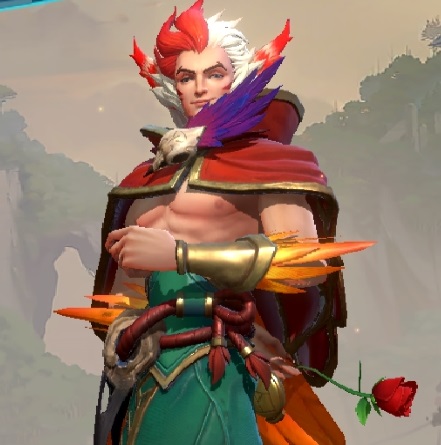 Class: Support
Rakan ARAM Build, Runes Guide
Recommendations on item build and runes for Rakan in ARAM (All Mid All Random) Mode in Wild Rift, along with a general guide to play Rakan in ARAM Mode.
Check Rakan Main Guide.
Recommended Builds
Rakan's passive, Fey Feathers grants Rakan a shield based on his AP. Damaging enemies with auto-attacks and abilities reduce the cooldown of the shield.
1st, Gleaming Quill is a skill shot that damages the first enemy hit. If it hits an enemy champion, Rakan and nearby allies are healed after a short duration or upon touching an ally.
2nd, Grand Entrance is a dash ability that makes Rakan leaps on the target location. On leaping, enemies in the area are damaged and knocked up. This is Rakan's main engage tool and this is especially potent when combined with Rakan's 3rd, Battle Dance, or Mark/Dash.
3rd, Battle Dance is a targeted dash ability that can only be used on allies. Targeted allies are given a shield. This ability allows Rakan to move in and out of the battlefield more efficiently.
Rakan's ultimate, The Quickness is Rakan's other engage tool. Once activated, Rakan gains bonus movement speed then, those who Rakan touches are damaged and charmed. In combination with Rakan's dashes and summoner spells, he can easily charm all 5 enemies, quickly turning the battle into his team's favor.
Rakan Build Recommendation in Wild Rift
Here are Item Build Recommedations that works on Rakan in Wild Rift ARAM Mode.
With Rakan, the tank build and the AP build can be used in equal effectiveness but the important thing is that you buy

Warmog's Armor for either build. This item is important because it will allow you to initiate over and over again without worrying about your HP levels thanks to its high out-of-combat regeneration.
With the tank build, buy

Winter's Approach and

Zeke's convergence for high ability haste, HP, and mana. With the AP build, buy

Rod of Ages and

Awakened Soulstealer for a balanced amount of HP, mana, and ability haste.
Runes
Aftershock grants additional defenses when you successfully control an enemy and the buff explodes after a few seconds, dealing magic damage based on your HP. Aery grants consistent bonuses to your damage and shields.
Weakness has enemies controlled by Blitzcrank will take more damage from all sources for a short while.
Regeneration adds a little more sustain.
Hunter – Genius grants ability haste so you can spam your abilities more often.
Summoner Spells

Mark/Dash allows you to surprise enemies with your ultimate when used in combination with the Dash. 

Flash is the standard initiation tool to surprise your enemies.
Other Champions ARAM Guides