LoL Wild Rift Evelynn ARAM Build - Items, Runes , Counter Guide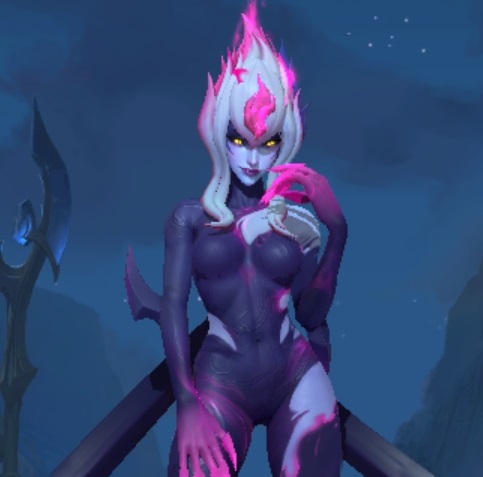 Class: Assassin
Evelynn ARAM Build, Runes Guide
Recommendations on item build and runes for Evelynn in ARAM (All Mid All Random) Mode in Wild Rift, along with a general guide to play Evelynn in ARAM Mode.
Check Evelynn Main Guide.
Recommended Builds
Evelynn's does not exactly fit ARAM's playstyle but she can still thrive here thanks to Mark/Dash. The trick here is to Mark an enemy then use Evelynn's 2nd ability, Allure on the marked enemy. After the Allure matures, use the Dash then use your abilities. You will be able to one-shot or at least lower the enemy's HP through all your abilities. And remember to use Evelynn's ultimate, Last Caress on multiple low HP enemies if possible.
Evelynn Build Recommendation in Wild Rift
Here are Item Build Recommedations that works on Evelynn in Wild Rift ARAM Mode.

 Rod of Ages grants some HP and Mana that will help Evelynn sustain herself, especially since she doesn't have any ranged abilities so she will always be in the crossfire in ARAM. Afterwards, she can choose to buy

Rabadon's Deathcap and

Lich Bane for a burst damage playstyle or she can build

Liandry's Torment for a more bruiser playstyle. After her core items, you should always buy

 Infinity Orb on Evelynn to increase her execution potential.
Runes
Electrocute grants bonus damage on combos so it pairs well with the burst damage build. On the other hand, Conqueror is the best Keystone rune for the bruiser playstyle. Brutal is best for Evelynn because of the bonus penetration. Adaptive Carapace will help you to survive burst damage and Hunter – Genius is the best inspiration rune because of the bonus ability haste to make sure that you'll be able to use your ultimate and combos as often as possible.
Summoner Spells

Mark/Dash is a great tool in combination with Evelynn's 2nd ability, Allure, and her ultimate, Last Caress. In an ARAM match with an Evelynn equipped with Mark/dash, nobody is safe.

Kill enemies instantly with a Flash and Last Caress combo.
Other Champions ARAM Guides