LoL Wild Rift Galio ARAM Build - Items, Runes , Counter Guide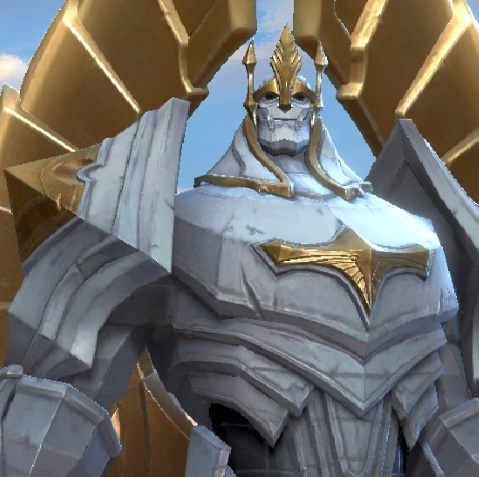 Class: Tank
Galio ARAM Build, Runes Guide
Recommendations on item build and runes for Galio in ARAM (All Mid All Random) Mode in Wild Rift, along with a general guide to play Galio in ARAM Mode.
Check Galio Main Guide.
Recommended Builds
Galio is a control tank mage that deals lots of AP damage and can crowd control multiple opponents with his abilities. His 1st ability, Winds of War is a strong poke ability that can match the poke damage of other AP mages. His 2nd ability, Shield of Durand allows him to tank AP damage thanks to its passive magic damage shield and when activated, it allows Galio to tank more damage thanks to the damage reduction and after the shield ends, it taunts enemies. It is recommended to chain Shield of Durand to his 3rd ability, Justice Punch, or to Protobelt Enchant to catch multiple enemies. Galio's ult allows him to shield his allies and force the enemy to retreat and if they cannot, they will get knocked up and receive Galio's full damage from his combos.
Galio Build Recommendation in Wild Rift
Here are Item Build Recommedations that works on Galio in Wild Rift ARAM Mode.
The tank build is recommended for ARAM because it will allow you to force fights over and over again thanks to the superior HP regeneration that the

Spirit Visage and

Warmog's Armor can give. You will still be dealing some damage with the help of

Sunfire Aegis. 
If you have another initiator and tank, the mage build is a far more superior build because once you have

Infinity Orb and

Rabadon's Deathcap, you will be able to one-shot enemies with just one combo.
Runes
Aftershock is best used by a tank build Galio because it will help him survive his initiations and his shield and the damage of his 1st ability, Winds of War scales with his defenses. Electrocute will help one-shot enemies when using the mage build.
Gathering Storm will help you have some scaling when using the tank build and it will increase your late game potency when using the mage build. You won't be able to unleash your combos using the mage build in the early game in ARAM, anyway.
Second Wind grants bonus health regeneration that will help against pokes.
Hunter – Genius grants bonus ability haste for each unique takedown. Galio needs this because of the long cooldowns of his abilities.
Summoner Spells

Mark/Dash is a death sentence to the marked target because it will have zero counterplay to Galio's counter then except for staying under their turret. If they too far to a turret, only death awaits your hapless prey.

Flash is great as an instant initiation option or for escaping after an initiation.
Other Champions ARAM Guides