LoL Wild Rift Kha'Zix ARAM Build - Items, Runes , Counter Guide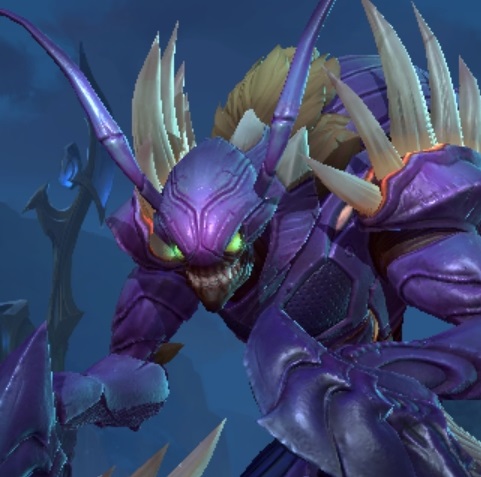 Class: Assassin
Kha'Zix ARAM Build, Runes Guide
Recommendations on item build and runes for Kha'Zix in ARAM (All Mid All Random) Mode in Wild Rift, along with a general guide to play Kha'Zix in ARAM Mode.
Check Kha'Zix Main Guide.
Recommended Builds
Kha'Zix is an assassin champion and because of that he has low HP but high damage and mobility. In ARAM, having a low HP is tough but Kha'Zix has a long-range ability in his 2nd ability, Void Spike to fight back in the early game. Evolving Void Spike is the most advisable first evolve since Kha'Zix does not have damage to one-shot enemies in the early to mid game and the additional spikes and the slow effect from evolving Void Spike is helpful for poking and assisting your team. For the second evolve, Kha'Zix's 3rd ability, Leap is the best option since you are starting to have some damage when you reach level 11 and the game progresses into the late game. The longer range and takedown resets will allow you to wreak havoc on the enemy team. For the third evolve, it is up to your preference. Upgrade Kha'Zix's first ability, Taste Their Fear if you fail to kill some of your opponents because of the lack of range from your 1st ability or auto-attacks. Upgrading Kha'zix's ultimate, Void Assault is advisable if you are getting killed and you want more outplay potential.
Kha'Zix Build Recommendation in Wild Rift
Here are Item Build Recommedations that works on Kha'Zix in Wild Rift ARAM Mode.

Manamune is a core item for Kha'Zix in ARAM because he comes online later, about the time it converts into Muramana. The additional AD and bonus damage from its scaling will help Kha'Zix carry in the late game. The bonus mana and mana refund will help Kha'Zix spam his 2nd ability, Void Spike as well.

Serylda's Grudge helps with the armor penetration and additional slow and

Duskblade of Draktharr will allow you to one-shot enemy champions.
Build

Black Cleaver,

Warmog's Armor, and

Death's Dance if your team lacks a front liner.
Runes
Aery will help increase your poke damage so you will be a little more impactful in the early game. Electrocute will be more helpful in bursting down enemies come middle game, though.
Gathering Storm grants an increasing AD bonus as the game goes by, complementing Manamune for more AD. Triumph is also a great domination rune since you'll be hunting low HP targets in the middle game and so the bonus damage to low HP targets and the healing on takedowns will be useful for you.
Second Wind grants bonus HP regeneration to help against pokes.
Hunter – Genius grants bonus ability haste for each unique takedown so you'll be able to spam your abilities more often.
Summoner Spells

Mark/Dash will help you assassinate low HP targets as it has a long range and it will allow you to use your 3rd ability, Leap for escaping or for jumping to another target.

Flash is another option for chasing targets or escaping dives if your 3rd ability, Leap is on cooldown.
Other Champions ARAM Guides