LoL Wild Rift Braum ARAM Build - Items, Runes , Counter Guide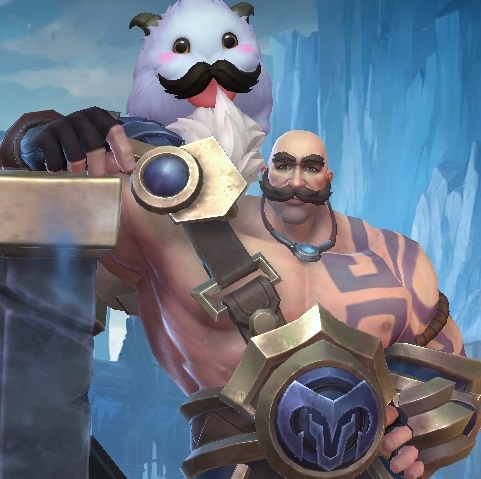 Class: Tank
Braum ARAM Build, Runes Guide
Recommendations on item build and runes for Braum in ARAM (All Mid All Random) Mode in Wild Rift, along with a general guide to play Braum in ARAM Mode.
Check Braum Main Guide.
Recommended Builds
Braum's passive is Concussive Blows. Your attacks and 1st, Winter's Bite marks enemies. Your and your allies's attacks stack the mark and upon reaching four marks, the enemy is stunned. In ARAM's chaotic team fights, your marks will go unnoticed most of the time. Your goal is to simply attack everyone once, which is easier with the help of portrait lock, and watch your enemies get stunned one by one when your marks get stacked by your ally's attacks.
1st, Winter's Bite launches an icy projectile which damages, slows, and marks the enemy with Concussive Blows. This is great for initiating on a single target or for chasing a fleeing enemy.
2nd, Stand Behind Me is great for repositioning yourself to avoid skillshots or to absorb skill-shots that will hit your ally. If you are going to catch skill shots, activate your 3rd, Unbreakable on or before using 2nd, Stand Behind Me. 
3rd, Unbreakable is what makes Braum so useful in ARAM. Skillshots are strong in ARAM because of the smaller map and the lack of sustain so Braum's ability to absorb skillshots is a big thing in ARAM, especially after he obtains his Warmog's Armor which grants him almost infinite regeneration.
Braum's ultimate, Glacial Fissure is a great initiation tool, especially when combined with Mark/Dash or Flash to surprise enemies. Angle it diagonally so you'll be able to cover almost the entire lane to minimize the options the enemy have for counterplay.
Braum Build Recommendation in Wild Rift
Here are Item Build Recommedations that works on Braum in Wild Rift ARAM Mode.
This ARAM build is a mix between ability haste and HP stacking.

Winter's Approach will help against burst damage since it provides a shield whenever its user applies crowd control to an enemy. Together with the high out-of-combat healing of

Warmog's Armor, it will make Braum almost unkillable. Buy

Zeke's Convergence afterwards since with your high ability haste, you will be able to take advantage of Zeke's Convergence's passive every time you activate Braum's ultimate, Glacial Fissure. 
Buy

Awakened Soulstealer to further increase the spamming capacity of your Braum or you can buy

Iceborn Gauntlet to increase your champion's utility through other means.
Runes
Font of Life marks enemies you have controlled. Allies who attacks the marked enemies will be healed for each attack they make. Aftershock grants additional defenses when you successfully control an enemy and the buff explodes after a few seconds, dealing magic damage based on your HP.
Weakness has enemies controlled by Braum will take more damage from all sources for a short while.
Regeneration adds a little more sustain.
Hunter – Genius grants ability haste so you can spam your abilities more often.
Summoner Spells

Mark/Dash allows you to surprise enemies with your ultimate when used in combination with the Dash. 

Flash is the standard initiation tool to surprise your enemies.
Other Champions ARAM Guides