LoL Wild Rift Wukong ARAM Build - Items, Runes , Counter Guide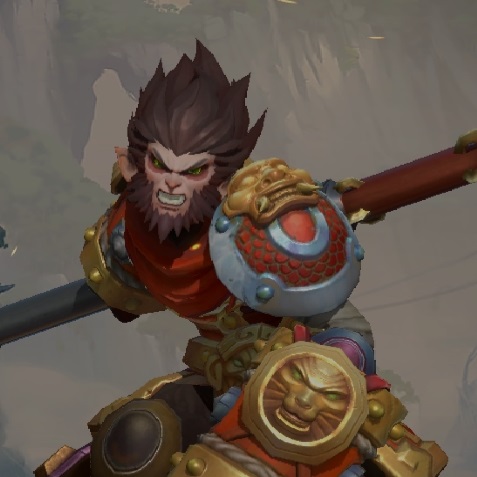 Class: Fighter
Wukong ARAM Build, Runes Guide
Recommendations on item build and runes for Wukong in ARAM (All Mid All Random) Mode in Wild Rift, along with a general guide to play Wukong in ARAM Mode.
Check Wukong Main Guide.
Recommended Builds
Wukong is great at team fights thanks to his ultimate, Cyclone that allows him to knock up the enemy team twice. But other than that, he brings little for his team when in ARAM. He could use his 2nd ability, Warrior Trickster to bait abilities and it can be combined with his 3rd ability, Nimbus Strike but it is just about that. Because of that, you will have to wait for his ultimate to be available before trying to commit to a fight.
Wukong Build Recommendation in Wild Rift
Here are Item Build Recommedations that works on Wukong in Wild Rift ARAM Mode.
The tank build is better for Wukong in ARAM since you will mostly be playing as a knock-up bot using his ultimate, Cyclone. To increase your usefulness to the team, bulking up with

Sunfire Aegis that also deals magic damage around its user is a great core item.

Warmog's Armor will help you to quickly recover your HP and

Black Cleaver's Sunder passive shreds the armor of enemies, making your targets more vulnerable to all AD champions in your team.
If you have another front line champion, you can build

Youmuu's Ghostblade and

Mortal Reminder to increase your burst damage.
Runes
Conqueror is the best keystone rune for Wukong since he likes to weave in and out of a fight and auto-attack people with his 1st ability, Golden Staff.
Triumph will allow you to deal more damage to low HP enemies and get healed after each takedown.
Second Wind helps against poke with its bonus HP regeneration.
Hunter – Genius grants bonus ability haste for each unique takedown. This is important because you'll want to have a low cooldown on Wukong's ultimate, Cyclone.
Summoner Spells

Surprise enemies with your initiation using Mark/Dash. Wait for your marked target to get close to their allies before dashing and using your ultimate.

Flash is another great initiation and escape tool for Wukong.
Other Champions ARAM Guides